Nagar Paribahan buses to ply on two new routes from Oct 13
Shining BD Desk || Shining BD
Published: 9/7/2022 5:34:47 AM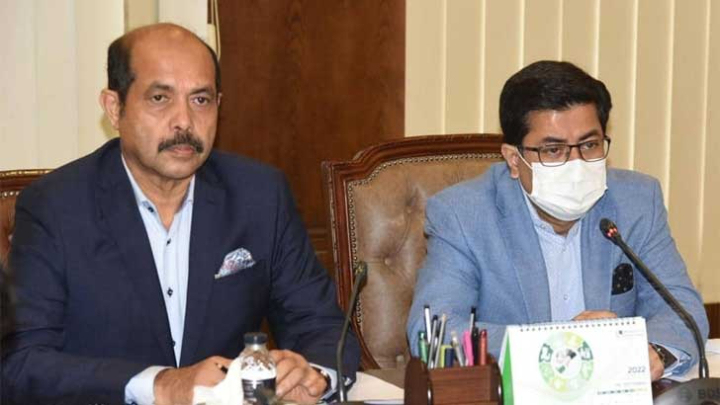 Dhaka South City Corporation (DSCC) mayor Sheikh Fazle Noor Taposh (right) and Dhaka North City Corporation mayor Md Atiqul Islam
The Bus Route Rationalisation Committee has fixed new deadline to introduce 200 new buses on two routes from October 13 and November 30.
The new two routes are: from Ghatarchar to Demra Staff Quarter via Basila, Mohammadpur Town Hall, Farmgate, Shahbagh, Fakirapool, Motijheel and Saidabad, and another route from Ghatarchar to Postogola Kadamtoli via Basila, Mohammadpur, Asadgate, Kalabagan, Science Lab, Azimpur and Gulistan Flyover, which will open on October 13.

Besides, another route -- Ghatarchar to Chittagong Road via Mohammadpur, College Gate, Science Lab, Shahbagh, Press Club, Gulistan, Dainik Bangla, Razarbag, Kamalapur and Dhalpur will open for Nagar Paribahan on November 30.

Dhaka South City Corporation (DSCC) mayor Sheikh Fazle Noor Taposh disclosed it after attending the 24th meeting of the Bus Route Rationalisation Committee at Nagar Bhaban in the capital.

"We will introduce Nagar Paribahan in these three-routes with 200 new buses. It is taking little time as the routes will be started with brand new comfortable buses," said Dhaka North City Corporation mayor Md Atiqul Islam.

The DSCC earlier on December 26, 2021 introduced Nagar Paribahan in the route from Ghatarchar-Kanchpur under a single authority, as part of the government's Bus Route Rationalisation initiative.

"We will introduce a combing operation against illegal buses to bring back discipline in city roads from September 25 to 29," said the DSCC mayor.

Taposh said they have succeeded in providing facilities to over 24 lakhs people till last month for which BRTC and related owners could earn Tk 3.60 crore from this bus service. It indicates they are on the right track, he said.

Taposh said they have almost completed the necessary infrastructure development on three routes. Only three passenger sheds are yet to be completed -- Two near Shahbagh junction due to MRT, and one near the secretariat.

"We are coordinating with the MRT authorities -- it will take a little time," he said.

Executive Director of Dhaka Transportation Coordination Board Sabiha Parveen, BRTC Chairman Md Tajul Islam, DSCC CEO Farid Ahmad, BRTA Chairman Noor Mohammad Mazumder, transport expert Dr SM Saleh uddin, Bangladesh Sarak Paribahan Malik Samity secretary general Khondker Enayet Ullah, Dhaka Sarak Paribahan Malik Samity president Azmal Uddin Ahmed, representative of the Dhaka Metropolitan Police Commissioner, and members of the relevant committees were present.

Source - Daily Observer