Bangladesh women's U-19 football star Shaheda aims to raise funds for flood victims
Shining BD Desk || Shining BD
Published: 6/23/2022 7:12:15 AM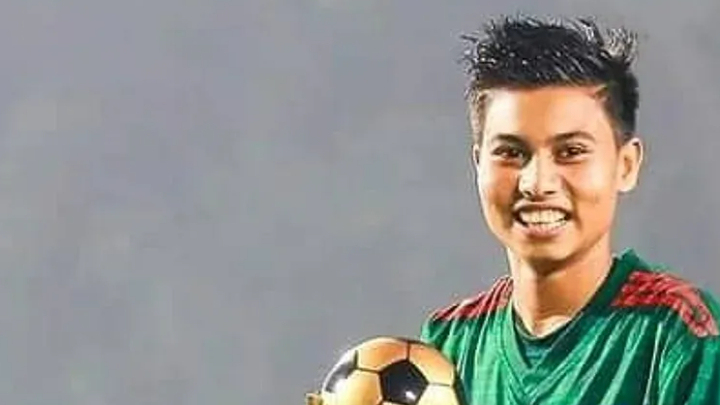 Bangladesh women's U-19 football star Shaheda Akter Ripa aims to raise funds for the victims of Sylhet's devastating flood by auctioning the trophy she won as the top goal scorer in the U-19 SAFF Championships last year.
Shaheda scored five goals in the tournament and had also assisted the winning goal in the final against India as Bangladesh went on to win the competition.
"I want to auction the best goal scorer trophy. All money from the auction will be donated for the flood-affected people of Sylhet," Shaheda wrote on her Facebook page on Wednesday.
"This trophy is kept in the showcase of my house, and maybe it will remain like this for the rest of my life. What Sylhet needs most now is the cooperation of all," added the girl from Cox Bazar's Ukhia, who was named as the tournament's best player.
The Daily Star contacted Shaheda today and asked her if the trophy had any suitor yet.
"I haven't got any response yet. Let's see what happens in the coming days," said Shaheda, who is a SSC student, told The Daily Star after class at BKSP today.
Asked why she had chosen to put her trophy up for auction, Shaheda replied:
"I never faced such climate disaster like flood during my childhood but I came to this stage through different suffering. From that perspective, I feel the urge to do something for them.
"Before deciding to put the trophy for auction, I discussed the matter with my father and brother and they were on board with my wish.
"I will not have any regret from selling one of my best achievements because it will be another big achievement for me if I can do something for the flood-affected people in Sylhet."
BFF set to raise funds from ticket sales
The women's national team are set to play a couple of FIFA tier-1 matches against Malaysia, the first of which is scheduled for today [6 pm BST] at the Birshrestha Shaheed Mostafa Kamal Stadium in Kamalapur, Dhaka.
Meanwhile, the Bangladesh Football Federation (BFF) has declared on Wednesday that the proceeds from the ticket sales will go to the flood-affected people of Sylhet. Tickets for the first match were available since Wednesday afternoon while the tickets of second game, slated for June 26, can be purchased from June 25.
The Daily Star