Diplomacy
A visit more crucial amid global crisis
Shining BD Desk || Shining BD
Published: 9/5/2022 4:07:14 AM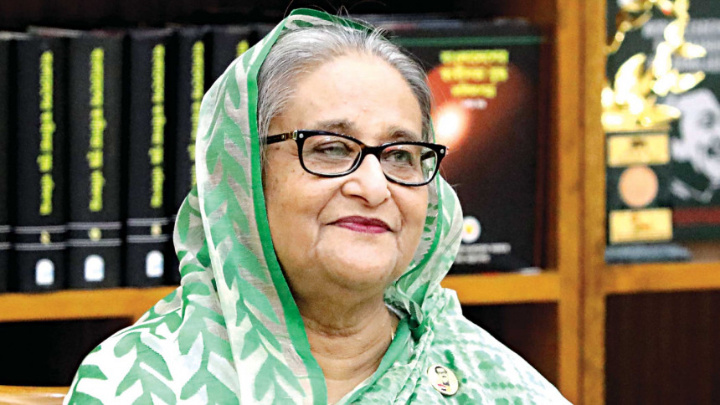 Prime Minister Sheikh Hasina today begins a four-day New Delhi visit, which is expected to take the 50-year diplomatic ties between India and Bangladesh to a new height amid global and regional crises fuelled by the Ukraine war and the Covid pandemic.
Bangladesh expects its closest neighbour to play a generous role in solving issues like Teesta water sharing and Rohingya refugee repatriation in the context that the two countries managed to end longstanding disputes over land and maritime boundaries.
Hasina is flying to India at the invitation of her counterpart Narendra Modi with agendas also including enhanced trade relations, power and energy sector cooperation and border management.
Modi came to Dhaka last year to join the celebrations marking the golden jubilee of Bangladesh's independence, and Hasina last time went to India in 2019 to take part in a summit organised by the World Economic Forum.
Praising various friendly gestures from India, including its role in the evacuation of Bangladesh nationals stuck in Ukraine, Hasina on the eve of her visit told news agency ANI that there can be differences but these should be addressed through dialogue.
She, however, said India should show more generosity concerning water sharing of common rivers, especially the Teesta, as Bangladesh lies downstream.
Acknowledging that Modi is eager to solve the problem, she said in the ANI interview, "… the problem is in your country. So … it should be solved."
Briefing journalists yesterday on PM's visit, Foreign Minister AK Abdul Momen said this is significant amid the Ukraine crisis, global economic downturn and ongoing Covid pandemic as the two neighbours seek enhanced cooperation to overcome the challenges.
Dhaka and Delhi will likely sign at least seven MoUs on water management, railway, science and technology, and information and broadcasting, he said.
"We hope the visit will be very successful. It will help achieve our goals," he told reporters at the foreign ministry, adding that Bangladesh thinks the visit will open new "windows of cooperation" between the countries.
Hasina will leave for India by a VVIP chartered flight of the Biman Bangladesh Airlines at 10:00am from Hazrat Shahjalal International Airport.
State Minister for Railways and Textiles of India Darshana Vikram and Bangladesh High Commissioner to India Muhammad Imran will receive her at the Palam Airport, New Delhi, where a red carpet will be rolled out in honour of Hasina.
During her visit, the prime minister will meet Indian President Droupadi Murmu and Vice President Jagdeep Dhankar apart from holding talks with her Indian counterpart Modi at the Hyderabad House.
Former Indian high commissioner to Bangladesh Deb Mukherjee views it as a goodwill visit as "there are positive feelings on both sides".
He also said, "There is a lot of potential for scaling up bilateral cooperation but it depends on how we handle our relations."
Veena Sikri, another former Indian envoy to Bangladesh, said Hasina's visit would be significant for keeping up the momentum in relations between the two countries despite the Covid-induced disruptions.
"I think the two prime ministers may give the green signal for the launch of negotiations for the signing of the Comprehensive Economic Partnership Agreement [CEPA] under which both sides will gain immensely and Bangladesh more."
Connectivity and energy cooperation will be two key issues to feature in the Hasina-Modi talks. Energy sector cooperation would be of particular importance for Bangladesh, which has been hit hard by electricity shortage and a sharp rise in petrol and diesel prices, added Sikri.
This visit is crucial given that the West and Russia and China, the two rival blocs, are trying to draw countries on their sides, said former Bangladesh foreign secretary Shahidul Haque.
"The state-level visit will be crucial in the context of global economic and geopolitical changes. Dhaka will definitely want Delhi to help stabilise the economy, especially the supply of energy and essentials."
In South Asia, where Afghanistan, Pakistan and Sri Lanka are in trouble, India and Bangladesh want to work together for regional stability, which is also related to regional security, added Shahidul Haque.
Another former foreign secretary, Md Touhid Hossain, however, thinks the rhetoric that this visit will make great changes in Indo-Bangla relations is a bit "far-fetched".
"I don't think the people of the country would expect much from this visit. A few MoUs are likely to be signed and maybe there would be some arrangements over water sharing of the Kushiyara," he said.
"Our relationship with India is very important and it will remain so in the coming years. However, people's expectations vis-à-vis India have gradually gone down since 2011. At that time, an agreement on Teesta was ready, but could not be signed because of India's internal politics."
He also said that despite the claims of a golden period of relations from both governments, there has been no progress on this in the last 11 years.
"If CEPA is signed," he added, "we have to see if it leads to better market access for Bangladeshi products and if Indian investments come under win-win conditions."
Prof Shahab Enam Khan, international relations analyst, thinks Bangladesh has been considerably contributing to the Indian economy and security. But he doubts "if there is any other regional neighbour that India has to keep its political constituents or security domains stable".
"The true value of friendship lies in reciprocity than verbatim. It's time to de-politicise water and focus on win-win growth. Bangladesh did its part long ago," he said.
By Mohammad Al-Masum Molla, Pallab Bhattacharya
Source - The Daily Star