Action against 19 cops including ASP Muharram Ali recommended
Shining BD Desk || Shining BD
Published: 8/23/2022 9:25:14 AM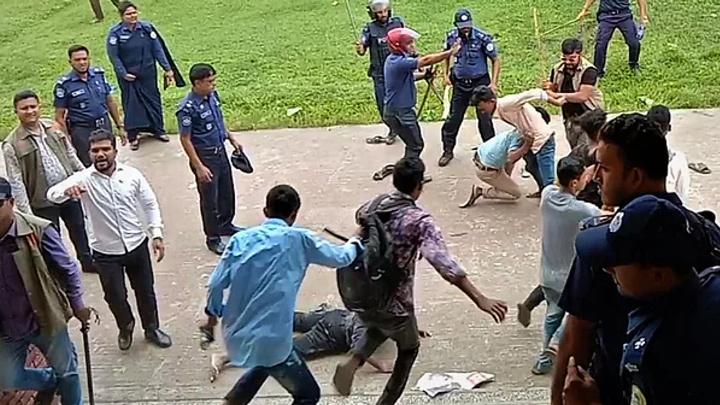 The probe committee, formed to investigate the incident of the police's baton charge on the activists of Bangladesh Chhatra League (BCL) during infighting at a programme of National Mourning Day in Barguna, has submitted its report.
The report recommended taking departmental action against 19 police officials, including Additional Superintendent of Police (ASP) Muharram Ali, said Barishal range police deputy inspector general (DIG) SM Aktaruzzaman on Monday evening.
Earlier, on 31 July, a clash broke out when police hindered a procession of Bangladesh Nationalist Party (BNP) in Bhola sadar town. That time a leader of Swechchhasebak Dal, the volunteers' wing of Bangladesh Nationalist Party (BNP), was shot to death. Later, injured Bhola district unit president of Jatiyatabadi Chhatra Dal president died under treatment at hospital.
But neither any committee has been formed to investigate the incident, nor any action taken against any police official.
On the other hand, punitive action is being taken against the police officials for charging baton on the leaders and activists of BCL, student wing of ruling Awami League, during infighting in Barguna.
Speaking about it, Supreme Court lawyer Shahdeen Malik told Prothom Alo, "People would think police beat the opposition men at the behest of the government. But the government can't tolerate if its own men get beaten. People's trust on the law enforcement agencies will diminish further due to such preferential action. Such behaviour is in no way acceptable."
Barishal range police constituted a three-member committee on 15 August night to investigate into the incident of police charging baton on the BCL activists.
The committee was headed by additional deputy inspector general M. Faruq ul Haq. Two other members of the committee are Barishal range police super (DIG office) M Habibur Rahman and Barishal range additional police super Sudipta Sarker. The committee submitted its report to DIG SM Aktaruzzaman on Sunday.
Speaking to Prothom Alo, SM Aktaruzzaman said, "It was found in the investigation that those police officials and members used additional force and behaved unprofessionally on 15 August. It has been recommended to take departmental action against them. The officials including the additional police super were sent to the police headquarters and the district police have been asked to take actions against the constables."
A police source said there is a provision to take initiative to investigate the matter anew after sending the primary investigation report to the police headquarters. The accused officials will be summoned then to give opportunity to defend them. Final decision will be taken after this. Basically, the officials are warned and rebuked in such cases, the source added.
News agency UNB adds: Additional superintendent of police Muharram Ali was withdrawn earlier for his involvement with the incident.
On 15 August, at least 20 people were injured in the infighting between two factions of the BCL Barguna unit during a National Mourning Day discussion.
The groups got into a scuffle following a heated argument during the discussion.
At one stage, they started hurling stones at each other and vandalised a police vehicle, SM Tariqul Islam, additional superintendent of Barguna police, said. "Later police had to use batons to bring the situation under control."
"Two BCL activists were arrested from the spot, and several of them suffered injuries," Tariqul added.
On 16 August, ASP Muharram Ali was withdrawn from his duties. Muharram Ali was attached to Barishal range DIG office, said Barishal range deputy inspector general SM Aktaruzzaman that day.
Besides, five policemen were withdrawn and attached to Pirojpur and Bhola district police lines.
Later, a three-member probe body was formed to investigate the incident.
Prothom Alo