Tea workers decide to join work at the current daily wage of Tk 120
Shining BD Desk || Shining BD
Published: 8/22/2022 5:22:42 AM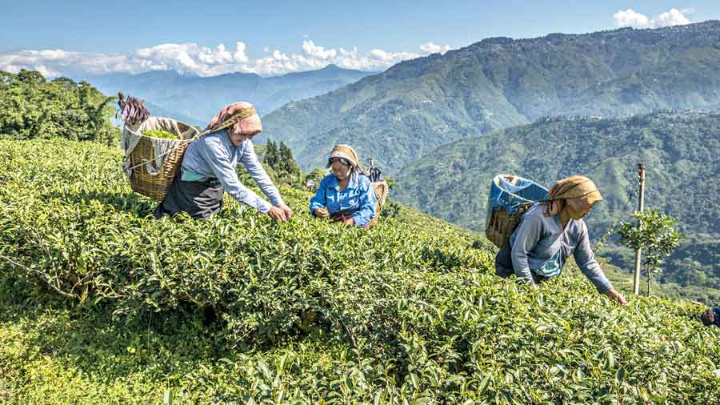 Tea workers, who were on an indefinite work abstention across the country for a pay hike, have decided to join work at the current daily wage of Tk 120.
The decision to call off the strike was taken following a meeting between district administration and leaders of Bangladesh Tea Workers' Union at the Moulvibazar DC conference room, reports.
After the discussion, the administration and the union leaders — in a joint statement — said the tea workers will be joining work today (August 22, 2022) at their current wage.
Moulvibazar Deputy Commissioner Mir Nahid Ahsan presided over the meeting.
Superintendent of Police Mohammad Zakaria; Deputy Director of divisional Labour Office of Sreemangal, Mohammad Nahidul Islam; Acting General Secretary of Bangladesh Tea Workers Union Nipen Pal; Vice-President Pankaj Kanda; Organising Secretary Bijoy Hazra; and other officials and leaders of the administration and Bangladesh Tea Workers Union were present at the meeting that started at 9pm yesterday (August 21, 2022) and continued for six hours.
"Bangladesh Tea Workers' Union called off their strike today in honour of the Prime Minister, keeping faith and confidence in her," the joint statement said.
For the time being, the workers will join the work at the current rate of Tk 120 per day, the statement said.
After a video conference with Prime Minister Sheikh Hasina, the issue of wages will be finalised later, the statement added.
Tea workers' leaders have appealed to the prime minister to join the video conference ahead of the upcoming Durga Puja.
According to the joint statement, the other demands of the tea workers will be submitted to the deputy commissioner, who will forward them to the Prime Minister's Office.
The garden owners will pay the wages for the days when the tea workers observed the strike as per the traditional practice of the gardens.
Moulvibazar DC Nahid Ahsan, Superintendent Zakaria and Deputy Director of Labour Office Nahidul Islam signed the statement on behalf of the administration.
On behalf of Bangladesh Tea Workers Union, acting General Secretary Nipen Pal, VP Pankaj Kanda, Organizing Secretary Bijoy Hazra, finance secretary Paresh Kalindi and some others signed the statement.
Earlier, the workers were offered Tk 145 per day but it was largely refused by them and they vowed to continue their protest until the prime minister offered them a proper solution to the wage issue.
The workers of 167 tea estates across the country on August 9, 2022, enforced a two-hour work abstention from 9:00am to 11:00am daily demanding a pay hike.
After four days, they went on an indefinite work abstention.
The Daily Star