DMP issues instructions to use specific routes to join occasion of inauguration of Padma Bridge
Shining BD Desk || Shining BD
Published: 6/23/2022 4:59:58 AM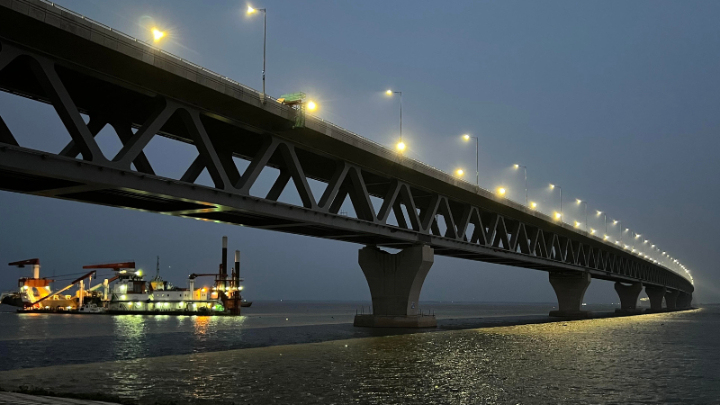 The Dhaka Metropolitan Police (DMP) has issued instructions to use specific routes to join the occasion of the inauguration of the Padma Bridge on June 25.
Faruk Hossain, deputy commissioner for DMP's public relations and media, confirmed the matter on Wednesday.
The DMP urged the guests to leave early with sufficient time in hand to reach the venue on time.
Routes for invited guests from Dhaka University, New Market area
Entrance to Chankharpul (Nimtali) - Mayor Hanif Flyover entrance adjacent to Dhaka Medical College - Left lane of Jatrabari - Dholaipar toll plaza - Dholaipar crossing - Jurain Flyover - Buriganga Bridge - Mawa Expressway
Routes for invited guests from Zero Point (Bangabandhu Avenue Gulistan)
Zero Point - Mayor Hanif Flyover entrance adjacent to Gulistan Ahad Box - Left lane of Jatrabari - Dholaipar toll plaza - Dholaipar crossing - Jurain Flyover - Buriganga Bridge - Mawa Expressway
Routes for invited guests from Motijheel Shapla Chattar
Motijheel Shapla Chattar - Mayor Hanif Flyover entrance adjacent to Ittefaq crossing Hatkhola bend - Left lane of Jatrabari - Dholaipar toll plaza - Dholaipar crossing - Jurain Flyover - Buriganga Bridge - Mawa Expressway
Routes for invited guests from Kamalapur
Kamalapur, Titipara crossing - Golapbagh bend - Mayor Hanif Flyover entrance adjacent to Inget - Left lane of Jatrabari - Dholaipar toll plaza - Dholaipar crossing - Jurain flyover - Buriganga Bridge - Mawa Expressway
Dhaka Tribune