PM alerts countrymen against recurrence of Aug 15-like carnage
Shining BD Desk || Shining BD
Published: 8/21/2022 8:08:26 AM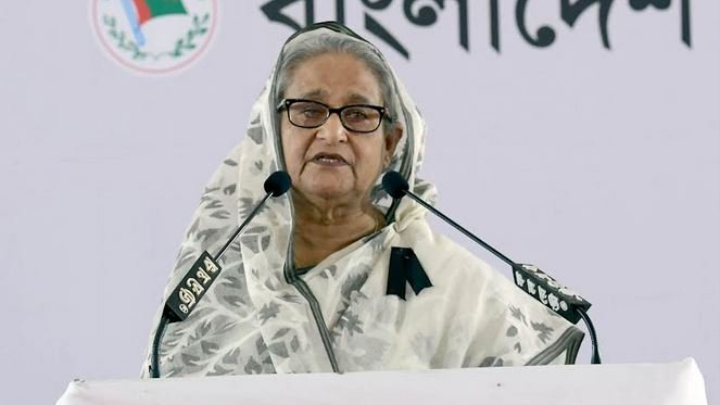 Prime Minister Sheikh Hasina today cautioned the countrymen about repetition of August 15, 1975-like carnage as those who doesn't like country's development wouldn't sit idle, reiterating that the August 21, 2004 grenade attack was launched under BNP government's direct patronage.
"More attacks may come. The August 15, 1975 attack was carried out when Bangabandhu started country's development. Today, Bangladesh became developing nation and is heading towards a developed one. ---those who doesn't like this, they will not sit idle, they must attack. ---so be alert about this," she said.
The premier also cautioned the people of the country about conspiracy being hatched as the next general election is approaching nearer.
Sheikh Hasina, also Awami League (AL) President, was presiding over a discussion organised by her party at its 23 Bangabandhu Avenue central office marking the 18th anniversary of the gruesome August 21, 2004 grenade attack.
The barbaric attack took away the lives of 22 AL leaders and activists and injured other several thousand people.
The prime minister said the Great Allah saved her time and again from various attacks as the Almighty has certainly bestowed some tasks on her.
"We, who got new life surviving the August 21, 2004 grenade attacks, have the responsibility to the people. And our today's pledge is to perform the duties till the last breath," she said.
Mentioning that it was impossible to conduct such heinous attacks without state patronage, the premier said the then BNP government's subsequent activities such as destroying all evidences, including unexploded grenades, helping killers flee the scene and even the country cleared the state sponsorship.
Referring to Khaleda Zia's remarks a few days before the attack that she (Sheikh Hasina) would never have to be the prime minister or even the opposition leader in future, she said Khaleda Zia knew everything well.
In this connection, the premier said Khaleda Zia also made such remarks before planting bombs at Kotalipara that the AL will not be able to go to power in 100 years.
She questioned how Khaleda Zia made such a forecast, saying, "If you follow her comments, these plots will come out".
AL General Secretary and Road Transport and Bridges Minister Obaidul Quader delivered the introductory speech at the discussion while it's Publicity and Publication Secretary Dr Abdus Sobhan Golap moderated it.
At the outset of the meeting, a minute's silence was observed as a mark of profound respect to the memory of the martyrs of the August 21 grenade attack and the martyrs of the August 15 carnage.
Immediately after reaching the venue, the prime minister placed a wreath at the makeshift podium to show respect to the August 21, 2004 martyrs.
Later, she along with AL's general secretary placed another wreath on behalf of the party.