Dhaka city faces the new challenges Dhaka-Jashore rail line project
Shining BD Desk || Shining BD
Published: 8/21/2022 7:34:23 AM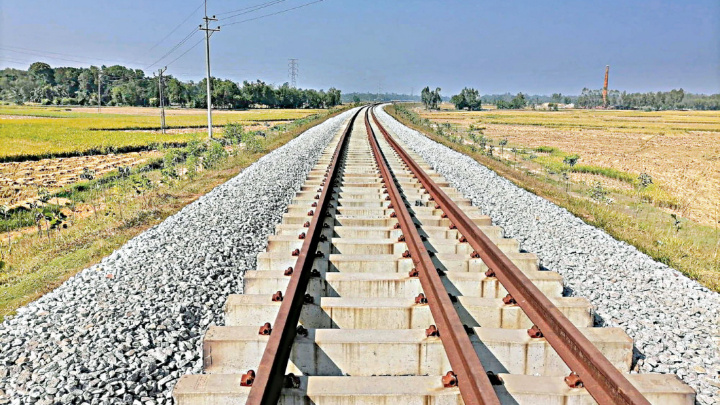 Supply issues of ballast for railway tracks and complexities centring shifting utility lines inside Dhaka city are the new challenges facing Dhaka-Jashore rail line project, which is already running behind the original schedule.
Besides, rail communication between Dhaka and Narayanganj may have to be kept suspended for one or two months to facilitate physical works of the project. However, the final decision has not been taken yet.
Railways Minister Nurul Islam Sujan yesterday talked about the new challenges, as he inaugurated the installation of the rail track on Padma Bridge at Janjira end in Munshiganj.
Meanwhile, the minister said railway is not considering hiking train fares for now, following the record fuel price hike.
"We didn't send any proposal to the prime minister in this regard so far... We are not considering any increase in train fares right now," the minister said.
Padma Bridge Rail Link Project (PBRLP), railway's biggest project, is being implemented to build a 169-km rail line from Dhaka to Jashore through Padma Bridge at a cost of Tk 39,247 crore.
The government approved the project in March 2016, and it was supposed to be completed within June 2022.
But physical works commenced only in July 2018, mainly due to the delay in signing of the loan contract with Chinese Exim Bank.
In the meantime, project costs climbed to Tk 39,246 crore, and the deadline was extended to 2024.
BR had a plan to launch train and road operations simultaneously, at least on Mawa-Bhanga section, but later changed the decision, as the bridge authority did not hand over the bridge to BR in due time due to "technical reasons".
The double-decker bridge -- with a roadway on top and rail line at the bottom -- was opened to the public on June 26. However, the rail link project witnessed 62 percent progress till July.
PBRLP authorities received the bridge last month, and the minister yesterday inaugurated track installation work. He said installation of ballastless track on the 6.68-km section of the bridge and viaduct may take four months to complete.
They have been working with a plan to start rail operation on Dhaka-Bhanga section via the bridge by June next year. "We are hopeful about meeting the target," he said.
However, a railway official on Friday told this correspondent that construction work from Kamalapur to Gendaria in Dhaka city is taking more time, as some new structures including an underpass are being constructed there. So even if the project authorities can complete construction work within June next year, they may not start train operation within June, the official said.
Because, after construction of the rail line, project authorities have to install a signalling system and go for trial, which would take at least two months, the official added.
Asked about the challenges the project is facing now, the minister said the major challenge is the supply of construction materials.
He said they have been collecting ballast from Maddhapara Granite Mining Company Limited, but in recent times, they are not getting enough ballast from it.
So, they have to search for an alternative source, and the search is ongoing, he said.
Contacted, Project Director Afzal Hossain said ballast supply from Maddhapara has remained suspended for around four months. So, they are now trying to bring it from different sources in India.
"We will require around 7 lakh tonnes of ballast, and this will have to be brought from abroad," he told The Daily Star last night.
"We would not have to spend more for ballast because it is the contractor who would bear the expenditure but it may have an adverse impact on timing," he added.
Meanwhile, the minister said the second challenge is to shift different utility services from Kamalapur to Gendaria. Besides, they have to build an underpass at the capital's TT Para area.
Another BR official, seeking anonymity, said they are facing issues to recover their land from the lessee to build the underpass at TT Para. This is the main problem. Apart from a dual-gauge line under PBRLP, the existing metre-gauge line from Dhaka to Narayanganj is being turned into dual-gauge double lines.
The minister said they may suspend rail operation on Dhaka-Narayanganj section for one to two months for smooth work.
However, no final decision has been taken yet, he added.
Replying to another question, he said it is not possible to say now whether the PBRLP costs would increase or not. "We hope the cost will not increase."
Noor-e-Alam Chowdhury, chief whip of the parliament, and top officials of the railways ministry and BR were present at the inauguration programme.
The Daily Star