Uttara crane accident: A festive home now shadowed with grief
Shining BD Desk || Shining BD
Published: 8/17/2022 8:01:34 AM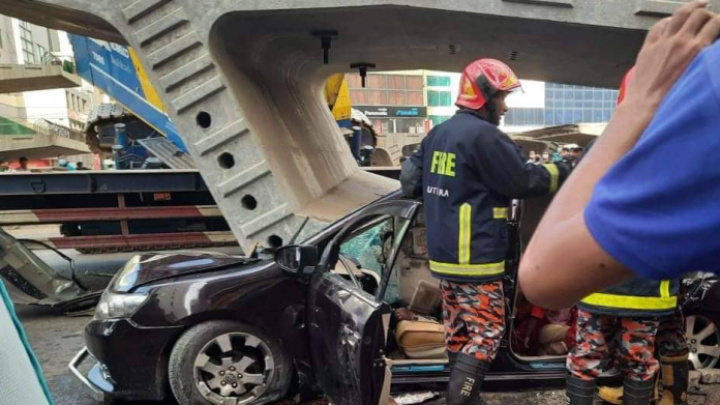 Fahima Akhter's rented home in Ashulia's Khejur Bagan was decorated with colorful lights as she had prepared to welcome her newly married daughter and son-in-law there after their reception.
However, the accident at Dhaka's Uttara turned the celebrations into mourning in a split second.
On Monday, Fahima was returning home with her daughter Riya, sister Jharna Akter and her two children, son-in-law Hridoy and his father Ayub Ali Hossain Rubel.
A 150-tonne girder that fell on the private car killed everyone inside except the newly married couple.
Since then, the decorated house of Fahima Akhter has been echoing with the cries of loved ones who are struggling to come to terms with the tragedy.
Relatives lamented that Fahima wasn't able to see her daughter happily married and called for exemplary punishment for those responsible for it.
An apparels worker, Fahima knew her fair share of struggles and had managed to marry off her daughter Riya, who also worked at a factory.
She and her daughter used to rent a room in a three-bedroom flat in Ashulia. Riya's wedding was held on the rooftop of the building.
Mabizul Islam, who lives in the same flat as Fahima, said: "She was very nice to all off us. She never showed any anger towards us."
Another neighbor, Nasrin Begum says she was invited to accompany Fahima to her daughter's in-laws.
"I could not go because I was busy. Its sad how they lost their lives. We want those involved with it to be punished," she added.
Fahima's brother Md Afran Mandal said her husband, who is ill, lives in Jamalpur.
Four laid to rest
Fahima, her sister Jharna and their two children Jannat and Zakaria were laid to rest on Tuesday night.
Jharna and her children were buried in their family graveyard in Melandaha Upazila.
Meanwhile, Fahima was buried in the neighbouring Islampur Upazila.
Dhaka Tribune