BNP demands independent UN investment on 'Aynaghar'
Shining BD Desk || Shining BD
Published: 8/17/2022 5:18:04 AM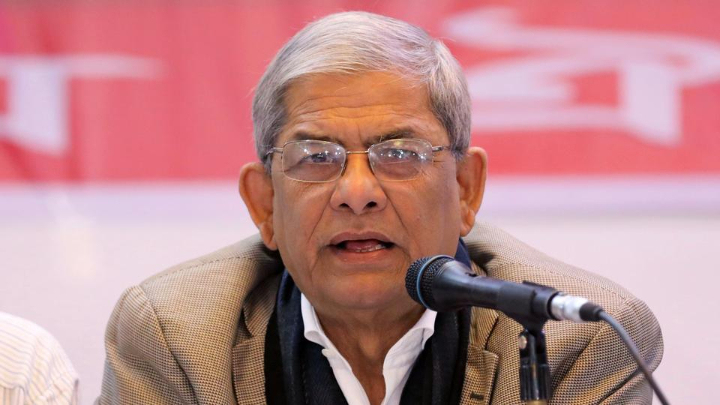 Bangladesh Nationalist Party (BNP) secretary general Mirza Fakhrul Islam Alamgir has called the United Nations for an independent investigation on 'Aynaghar', a documentary produced by news portal netranews.
"This documentary has revealed that the law enforcement agencies at different times kidnapped and made the BNP leaders and activists victims of enforced disappearance," he said.
Mirza Fakhrul was addressing a programme organised at the party's Naya Paltan central office on Tuesday. Dhaka metro (north and south) BNP organised the doa-mahfil programme marking 77th birthday of party chairperson Khaleda Zia and praying for her speedy recovery. They also prayed for the salvation of the souls of people died in the ongoing movement across the country and recovery of the people who sustained injuries during the movement.
Mirza Fakhrul said, "BNP is extremely concerned about the ghastly picture netranews has published of torturing the political leaders and activists at Aynaghar, a torture cell run by the Bangladesh government's intelligence unit."
Alleging that a large number of BNP leaders and activists have fallen victim of enforced disappearances, the BNP secretary general said, "Around 600 leaders and activists, including Ilias Ali, Chowdhury Alam, are victims of enforced disappearances. The government could never come up with a proper answer about their whereabouts. Moreover, some people were released from the Aynaghar and threatened and forced them to say that they were hiding for familial reasons."
Mirza Fakhrul said, "The netranews report proves the BNP's allegations about enforced disappearances."
He further said they condemned these incidents of gross violation of human rights to the United Nations High Commissioner for Human Rights and demanded for an immediate independent and objective research of the incidents.
Dhaka metro (north) BNP member secretary Aminul Haque moderated the programme where the party's senior joint secretary general Ruhul Kabir Rizvi, Dhaka metro (north) BNP convener Aman Ullah, Dhaka metro (south) BNP convener Abdus Salam, among others, addressed the programme.
Prothom Alo