Ukrainian forces reported heavy Russian shelling
Shining BD Desk || Shining BD
Published: 8/16/2022 7:00:23 AM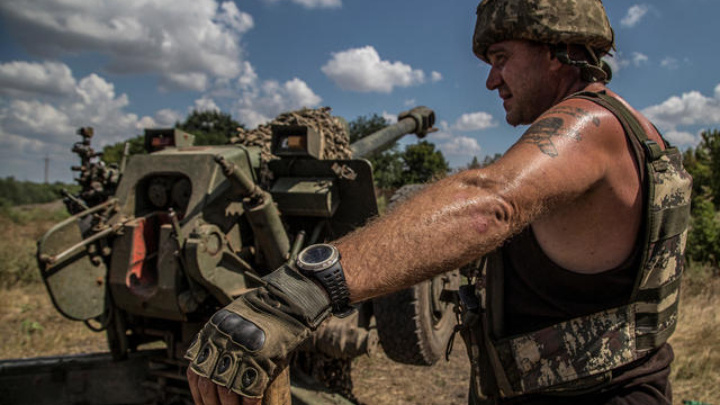 Ukrainian forces reported heavy Russian shelling and attempts to advance on several towns in the eastern region of Donetsk that has become a key focus of the near six-month war, but said they had repelled many of the attacks.
The General Staff of Ukraine's armed forces also reported Russian shelling of more than a dozen towns on the southern front - particularly the Kherson region, mainly controlled by Russian forces, but where Ukrainian troops are steadily capturing territory.
Natalia Humeniuk, spokesperson for Ukraine's southern military command, said yesterday the situation was complicated but under control. "The enemy doesn't dare advance by land, but fires at the territories in the rear with artillery and rockets," she told a news briefing.
Much attention has been focused on the Zaporizhzhia nuclear plant in southern Ukraine amid fears of a catastrophe over renewed shelling in recent days that Russia and Ukraine blame on each other.
"What is happening there is outright nuclear terrorism, and it can end unpredictably at any moment," said Dmytro Orlov, the mayor of Energodar city where the plant is based.
"The risks are increasing every day," he told AFP by telephone from the Ukrainian-controlled city of Zaporizhzhia yesterday. He said there was mortar shelling on the plant "every day and night".
"The situation is hazardous, and what causes the most concern is that there is no de-escalation process," he added.
The Zaporizhzhia plant dominates the south bank of a vast reservoir on the Dnipro River. Ukrainian forces controlling the towns and cities on the opposite bank have come under intense bombardment from the Russian-held side.
The International Atomic Energy Agency, which seeks to inspect the plant, has warned of a nuclear disaster unless fighting stops. Nuclear experts fear fighting might damage the plant's spent fuel pools or reactors.
Ukrainian President Volodymyr Zelensky said Ukraine had many times proposed different formats to the Russian leadership for peace talks, without progress, reports Reuters.
"So we have to defend ourselves, we have to answer every form of terror, every instance of shelling - the fierce shelling which does not let up for a single day," he said in video remarks late on Sunday.
In the battleground, the situation was particularly difficult in Avdiivka and nearby towns, such as Pisky, Ukrainian military expert Oleg Zhdanov said.
In the neighbouring Russian-occupied region of Luhansk, in the grounds below an abandoned, charred apartment block, Lilia Ai-Talatini, 48, watched on as her mother's body was exhumed from a makeshift grave to be taken to a cemetery for a proper burial.
The conflict has pushed Moscow-Washington relations to a low point, with Russia warning it may sever them.
Russian President Vladimir Putin said yesterday that Moscow was ready to offer modern weapons to its allies. He used a speech at an arms show near Moscow to boast of Russia's advanced weapons capabilities.
An Ethiopia-bound cargo, the first since Russia's invasion of Ukraine, was getting ready to leave in the next few days, while sources said the first grain ship to leave Ukraine under a UN deal was nearing Syria.
The Daily Star