Chinese vessel reaches Sri Lanka amid concerns in India
Shining BD Desk || Shining BD
Published: 8/16/2022 5:58:06 AM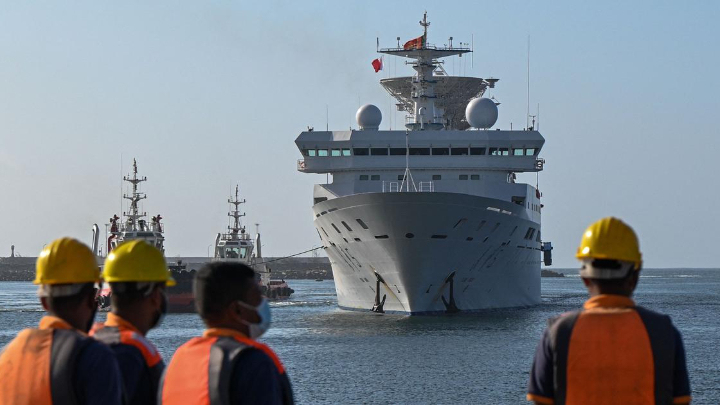 A Chinese research vessel - widely tagged as a spy ship - reached Sri Lanka's Hambantota Port on Tuesday morning, reports said, amid concerns in India. The vessel - Yuan Wang-5 - was give clearance to arrive at the Sri Lanka port over the weekend. Yuan Wang-5 is used by China's People's Liberation Army (PLA) to track satellites and ballistic missiles. The ship is said to have some 2,000 sailors aboard.
"Having considered all material in place, on 13 August 2022, the clearance to the Embassy of the People's Republic of China was conveyed for the deferred arrival of the vessel from 16-22 August 2022," Sri Lanka's foreign affairs ministry said in a statement.
The Hambantota Port has been taken by China on a debt swap by China on a 99-year-lease. It's considered to be strategically important because of its location.
The arrival of the vessel in debt-ridden Sri Lanka - which was initially expected on August 11 - comes after the island nation had asked Beijing earlier this month to defer the entry. This was, however, followed by a sharp reaction from China, which said that it was "completely unjustified" for certain countries to cite the so-called "security concerns" to pressure Colombo and "grossly interfere" in its internal affairs. Beijing had said it had sought new entry dates "for replenishment purposes of the vessel".
However, external affairs ministry spokesperson Arindam Bagchi gave a sharp response over Beijing's comment. "We reject the insinuations in the statement about India. Sri Lanka is a sovereign country and makes its own independent decisions," Bagchi had said.
"As regards India-China relations, we have consistently emphasised the necessity of mutual respect, mutual sensitivity and mutual interests as a basis for the development of ties."
Hindustan Times