Deceased college teacher was stressed; family blames 22-yr-old husband
Shining BD Desk || Shining BD
Published: 8/14/2022 9:33:08 AM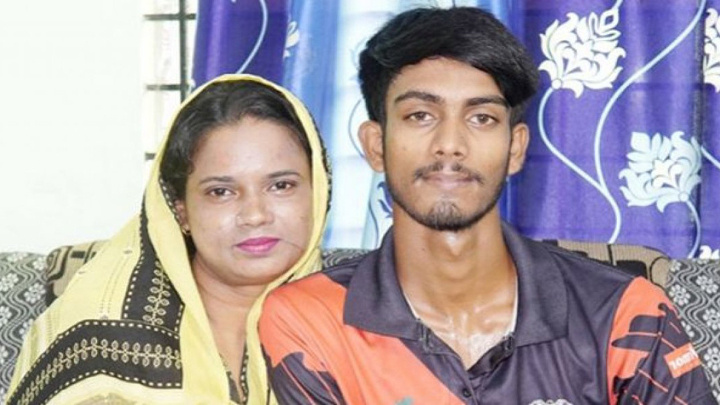 Family members of the deceased college teacher Khairun Nahar, who was found dead on Sunday morning, said she was under stress after marrying 22-year-old college student Mamun Hossain.
Police recovered the 40-year-old victim's body from a rented house in Ballaripara in Gurudaspur upazila of Natore on Sunday morning.
Later, her relatives rushed to the spot. However, no one from her husband's side was seen at the spot till noon.
Mamun told the police that his wife committed suicide. He was immediately arrested in the morning.
Relatives of the teacher have also filed a complaint against him regarding the death.
Mamun and Nahar got married at a kazi office on December 12.
After six months of marriage, when the news of the marriage spread on social media on July 31, various discussions and criticisms started.
The teacher's body was recovered only 14 days after the incident went viral.
When asked about the cause of death, the teacher's nephew Nahid Hossain told Bangla Tribune that Mamun was a drug addict.
"Since marriage, he has taken Tk5,00,000 and a motorcycle. Mamun recently asked for a more expensive motorcycle. Khairun Nahar was under stress about this," he added.
Nahid also alleged that recently there was a commotion between some miscreants over drugs in Gurudaspur where Mamun was also accused.
"My aunt was in turmoil due to various mental and family pressures regarding these issues," he observed.
Nahid urged the police administration to unravel the mystery of this death.
The teacher's cousin, Saber Hossain, claimed that Khairun Nahar's relatives, colleagues and acquaintances have criticized her for various things since the marriage incident went viral.
He mentioned: "Some reacted positively and some negatively to the incident. Khairun was stressed about this. But I do not understand why she might commit suicide"
In response to a question, he said that Khairun's family were not aware of any pressure coming from her previous husband or child.
Natore Superintendent of Police Sharif Uddin said an investigation is underway to reveal more details about the incident.
Dhaka Tribune