Dhaka Road Transport Owners' Association scraps the waybill check system
Shining BD Desk || Shining BD
Published: 8/11/2022 8:36:42 AM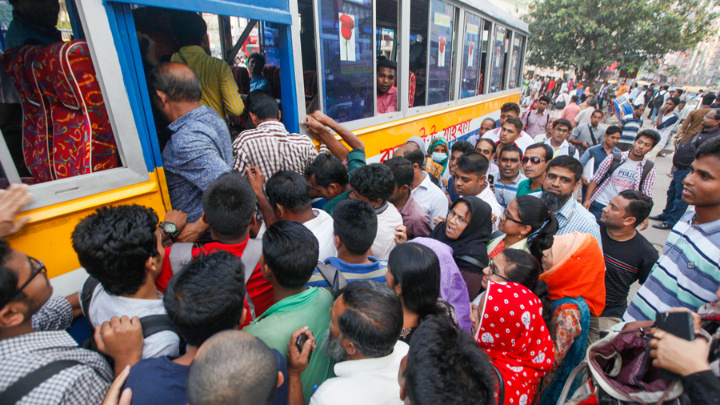 Dhaka Road Transport Owners' Association has scrapped the waybill check system for bus trips in the capital.
The association's General Secretary Khandkar Enayet Ullah confirmed the development on Thursday, reports.
The decision came amid complaints of charging extra fares against some buses in the name of waybills despite the increase in public transport fares due to the increase in fuel prices.Enayet Ullah said: "There will be no waybills for buses plying in and around Dhaka city. There will be no checkers on the road. The vehicles must be stopped at permit stoppages. However, the door of the buses will be kept closed between two stops.
Apart from this, the Dhaka Road Transport Owners Association has announced to charge the fare according to the new chart of Bangladesh Road Transport Authority (BRTA). They said that the new fare chart should be hung in a visible place on every vehicle.
Meanwhile, nine vigilance teams consisting of owners have been formed to monitor whether BRTA is charging more than the revised fare. Enayet Ullah also said that these teams have started working from the field with the executive magistrates of BRTA.
Earlier on August 6, BRTA announced a long meeting with public transport owners and labor leaders to increase the fares.
Reportedly BRTA has increased bus fares by 16.27% per kilometer in Dhaka and Chittagong cities, 17% in the surrounding areas of these two cities (DTCA) and 22.22% for long-distance buses.Accordingly, long-distance bus fare has been increased from Tk1.80 to Tk2.20 per kilometer, from Tk2.15 to Tk 2.50 in Dhaka-Chittagong and from Tk2.05 to Tk2.40 paise in DTCA area.
The minimum fare for large buses in Dhaka and Chittagong has been maintained at Tk10 and for minibusses at Tk8.
The waybill is to monitor when a vehicle leaves a stop, how many passengers there are, whether any fee has to be paid, whether there are half-pass passengers if any, then how many and so on. An inspector appointed by the owner does the job and writes down the necessary information on the specified paper of the waybill.
A bus route is divided into several points and each has an inspector or staff. They would write the passenger's information at their point in the waybill book and sign.
Later, the bus owner would get the money by multiplying the number of passengers and the fixed fare up to those points.
Different vehicles have different fares up to different points. Somewhere less, somewhere more.
Sometimes there are more or fewer passengers in which case the average number of passengers and fare is calculated.
At one time, public transport used to sell tickets by setting up booths on the pavements of the roads in Dhaka since it was possible to understand how many passengers boarded from which stoppage.
Although that system still exists, the waybill system has become popular in a different form.
Dhaka Tribune