12 young students serenades NSU with their otherworldly acapella chops in unique style
Shining BD Desk || Shining BD
Published: 6/22/2022 6:58:17 AM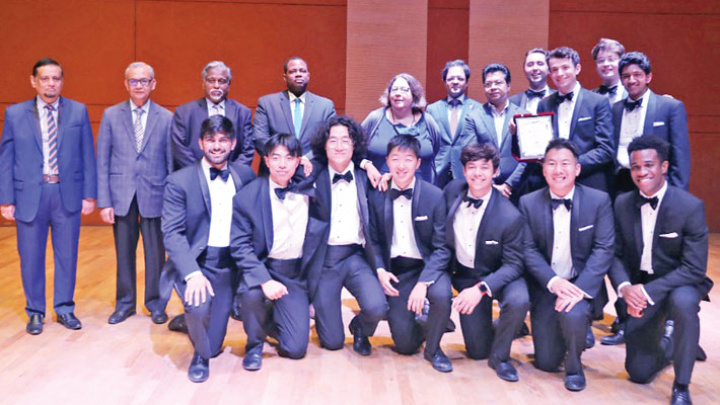 Last week, a group of 12 young students serenaded North South University with their otherworldly acapella chops, introducing an auditorium full of students to their unique style.
The Harvard Krokodiloes, popularly known as the Kroks, is Harvard University's oldest acappella singing group. They were in Dhaka last week, and as a part of their two-day itinerary. They not only performed in NSU, but did a television shoot, got familiarised with local music at Shurer Dhara, and conducted a small workshop at Bengal Shilpalaya.
Founded in 1946, the Kroks trace back to 1770 in Harvard's Hasty Pudding Club, one of the oldest collegiate social organisations in the United States. Inspired by the stuffed crocodiles on the wall of the Pudding's Upstairs Bar, the founding singers borrowed the Greek word for crocodile, and the Krokodiloes were born.
Ever since their inception, they have been striving to bring the music of the Great American Songbook, as well as more traditional aires, to audiences across the globe. Their fine musicianship, youthful energy, unique blend of snappy choreography and witty humour make them instant crowd-pleasers. Their specialisation lies within their voices as they do not use any instrument and portray this to be the rawest expression of their emotions.
Touring has always been a defining characteristic of the Harvard Krokodiloes. Each summer, the band participates in an annual world tour, as they continue to bring the classic songs of America's Golden Age of music to audiences around the globe. This year, they are spending 82 days exploring 20 countries and 24 cities across the globe.
"These tours help us spread awareness about acappella music, and exchange cultures. This is indeed a wonderful experience for this close-knit community of music lovers," shared Jonathan D'Souza, the band's tour manager. He is currently pursuing his undergraduate degree in Environmental Science and Engineering. The other members of the troupe include Will Granger, Kieran Anderson, Jongtae Jeon, Jeffrey Ding, Eton Shon, Joey Griffith, Ian Hayes, Hari Narayanan, Gregor Kossmann, Cyril Leahy, and Rick Zhou.
At NSU, the Kroks came across a beatboxing group Beatmosphere, who according to them, replicated the sounds of Dhaka. This provided them with a raw local experience and they look forward to trying something similar with their music. "NSU presented us with one of the biggest audiences in a long time. It was striking how many people loved this new music form and came up to the stage for pictures, autographs and merchandise," asserts Jonathan.
In order to promote cultural infusion, the Kroks add new songs to their list every year, and these are produced entirely by the group members. "Our members bring out new music by adding a touch of modernity while staying true to our roots," he added.
The Kroks say that they have been amazed by the generosity, selflessness and care they have received during this tour. They have found Dhaka's art scene to be diverse, drawing special attention to the rickshaw painting and wall art practices. "Dhaka has a very authentic art-culture scene, and the people here are not afraid to express it," concludes Jonathan.
The Daily Star