Death toll in Mirsharai train accident rises to 13
Shining BD Desk || Shining BD
Published: 8/7/2022 5:22:53 AM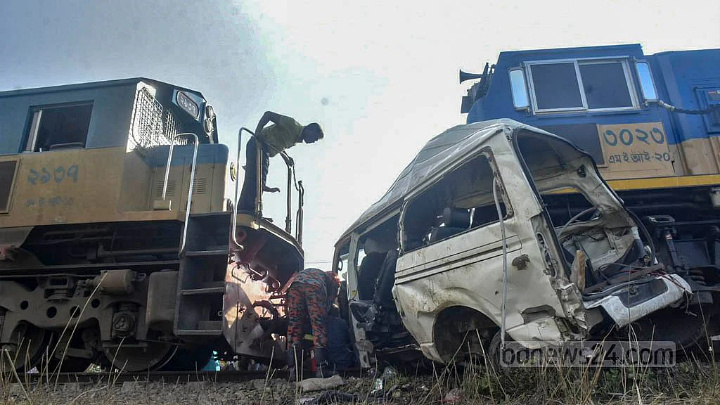 A 16-year-old student succumbed to his injuries on Saturday at CMCH, raising the death toll to 13 from the accident involving a running train hitting a microbus stuck on a level crossing in Mirsharai upazila of Chittagong, said a physician of the hospital.
The deceased was identified as Tasmir Hasan, a passenger of the ill-fated microbus. He was an SSC examinee from KS Nazumiyahat High School.
Tasmir breathed his last around 9:50pm after undergoing treatment at Chittagong Medical College and Hospital (CMCH) for the last eight days, said Dr Harun Or Rashid of CMCH's intensive care unit (ICU).
Dr Harun said Tasmir was treated at the ICU as he had suffered severe head and neck injuries in the accident.
On Friday, another victim, Ayat Hossain, succumbed to his injuries while undergoing treatment at CMCH.
On July 29, 11 people, all aged 20 to 30, died after an express train hit the microbus at a level crossing in Mirsharai.
Seven of them were SSC and HSC examinees, three of them were teachers at a coaching centre named R&J Private Care and another was the microbus driver.
They were returning home in the Aminbazar area of Hathazari after a tour of the Khoiyachora Waterfall in the hills of Mirsharai.
The Chittagong-bound Mohanagar Provati train from Dhaka rammed into the microbus, dragging it around a kilometre down the railway track.
Dhaka Tribune