Charging mobile phones for an hour costs Tk100 to Tk150: Sunamganj flood
Shining BD Desk || Shining BD
Published: 6/22/2022 4:52:53 AM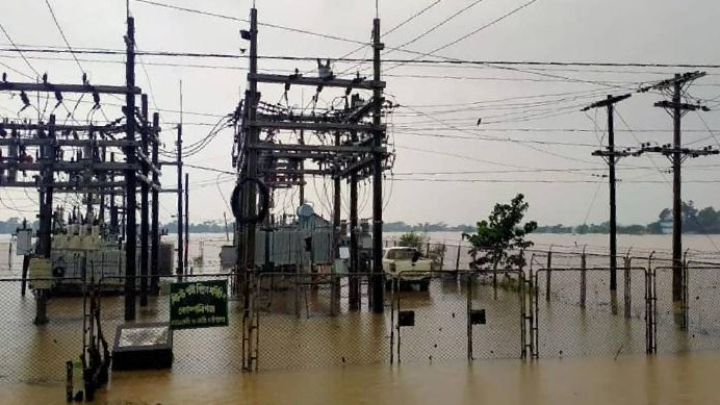 The northeastern region of Sunamganj is witnessing one of the worst floods in the history of Bangladesh and the days-long power outage in the flooded area has only added to the sufferings of the residents.
However, a quarter has sought to cash in on the opportunity, charging people anywhere between Tk100 to Tk150 to allow them to charge their mobile phones for an hour.
A spot visit showed that around 20 businessmen who have generators at their shops are now doing a booming trade of mobile charging in various spots in Sunamganj town including those located in Abduj Jahur Bridge and Pashchim Bazar, online media outlet Bangla Tribune reports.
Everytime a person charges their phone they have to cough up Tk100 and sometimes Tk120 or Tk150.
Locals said that the power outage means that their battery has been dead for days and they have been unable to speak to their loved ones.
"There has been no power for the last few days. My battery is dead. I haven't been able to speak to my relatives and hence came to the shop to charge my phone and saw that its Tk100 for an hour of charging," Azizur Rahman, a local who was at a shop at Abduj Jahur Bridge told.
According to Afnan Ahmed, a local, it was possible to charge phones for Tk30-40 in the mornings.
"But now that people are lined up, they are charging Tk100," he said.
Meanwhile, a shopkeeper requesting anonymity said: "We are charging phones through generators. There is a cost of oil to run the generator and its taking a long time for a lot of phones to charge. Considering that, they are not having to pay that much."
Sunamganj UNO Imran Shahriar said: "Efforts are underway to restore electricity. Steps will be taken against those who are charging exorbitant amounts of money to charge phones through generators."
Dhaka Tribune