Government takes immediate measures to cope with flood situation: PM Hasina
Shining BD Desk || Shining BD
Published: 6/22/2022 4:48:24 AM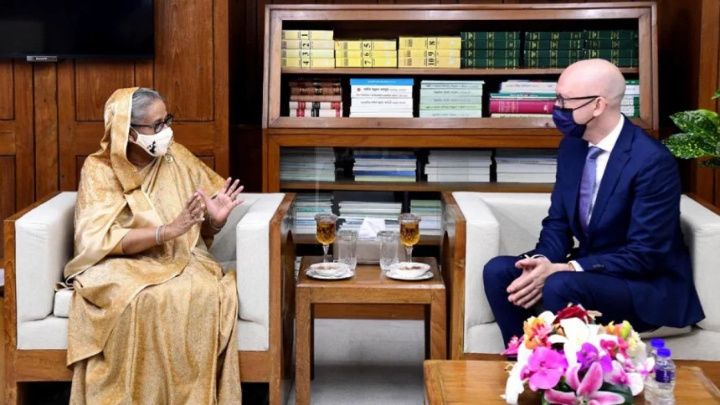 Prime Minister Sheikh Hasina yesterday (June 21, 2022) said the government took immediate measures to cope with the flood situation.
She said this while Ambassador and Head of Delegation of the European Union to Bangladesh Charles Whiteley called on her at her Sangsad Bhaban office.
According to a press release, she explained the current flood situation in the North-Eastern part of Bangladesh, where she paid a short visit by helicopter yesterday and held a discussion meeting with the volunteers, party activists, and government agencies who are actively working to rescue the affected people.
The EU ambassador expressed his satisfaction over Bangladesh's preparedness and resilience to combat this kind of seasonal natural disaster caused mainly by the monsoon rain.
Sheikh Hasina said that the government built cyclone shelters in the south and multipurpose flood shelters in the northern part of Bangladesh as disaster preparedness.
Furthermore, she stated that Bangladesh, as a riverine country, faces tremendous challenges of river erosion and the impact of climate change.
To that end, she briefly narrated her visions, including Bangladesh Delta Plan-2100.
She mentioned that the EU countries are Bangladesh's largest export destination. She appreciated the EU's continued trade preference for Bangladesh in the form of the Everything-but-Arms (EBA) Initiative.
She reiterated her government's continued commitment to work closely with the EU on trade-related issues.
In this regard, Ambassador Whiteley appreciated Bangladesh's booming green garments industries.
He wished smooth transition of Bangladesh from the LDC. He assured that the new GSP regulation of the EU has already considered Bangladesh's bid for GSP+ facilities till 2029.
However, Sheikh Hasina looks forward to receiving the EU's continued support even beyond 2029.
EU Head of Delegation appreciated Bangladesh's success in containing the COVID-19 pandemic. He reiterated that the EU is helping to repatriate Rohingyas from Bangladesh to their homeland in the Rakhine State of Myanmar.
In this regard, he mentioned that they are looking for some practical approaches to do so soon.
The EU Head of Delegation lauded Bangladesh's tax regime for attracting foreign investment compared to other countries. The meeting ended with a goodwill gesture by handing over gifts to each other.
Hasina appreciated Ambassador Whiteley's commitment and efforts to elevate further and diversify the Bangladesh-EU relations.
The Daily Star