Aman paddy and jute growers of Thakurgaon district becomes worried due to drought-like situation for lack of rains
Published: 7/17/2022 1:50:14 PM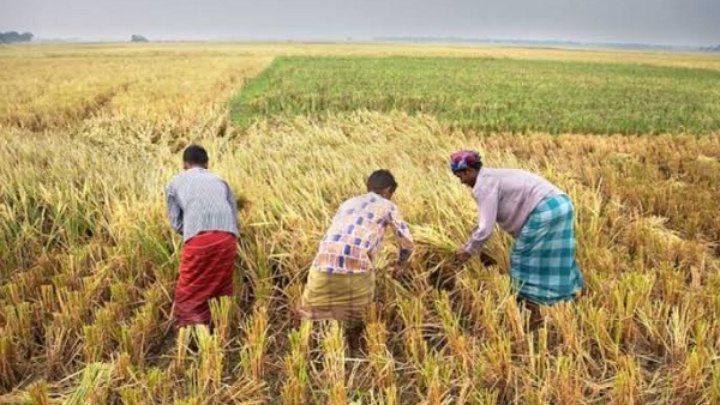 Aman paddy and jute growers of Thakurgaon district have become worried due to drought-like situation for lack of rains which is hampering timely jute harvesting and Aman cultivation.
Paddy, jute, maize, wheat and sugarcane are grown aplenty in the district due to its fertile soil. But this year, jute growers have been facing problems to rot and process the natural fibre due to a lack of rain even during the monsoon.
The jute growers are not harvesting their jute as there is a lack of adequate water to rot it. Every year, they harvest jute and keep those underwater for rotting in this season, said farmers.
If jute is not harvested now Aman growers will not be able to cultivate Aman paddy on the same land on time, which may lead to a food crisis, they said.
Aman farmers in the district mostly depend on rainwaters for cultivation. According to government data, there are no irrigation facilities on 50% of Aman land.
According to the Department of Agriculture Extension (DAE), a total of 1,465 hectares of land have been brought under jute cultivation this year which was 1,222 hectares last year.
Besides, this year, the government has set a target to cultivate Aman paddy on 1,37,025 hectares of land with a target to produce 3,97,450 metric tonnes of paddy.
Usually, farmers cultivate Aman paddy from July 1 to July 31 but this year, the Aman growers failed to prepare Aman seedbed even in the second week of July.
Mafijul Islam, a farmer of Sadar upazila, said: "Rains drenched the district in June. I have prepared my land for Aman cultivation but there is no sign of rains now."
Rahmat, a jute grower, said all the canals and beels (waterbodies) have dried up and I did not get adequate water for rotting jute that's why I have failed to harvest jute.
Krishna Roy, agriculture officer of Sadar upazila, said every year in July, the district recorded 700 mm of rainfall but this year the weather office has so far recorded only 170 mm of rainfall.
Only 10% of lands have been brought under Aman cultivation and if the drought-like situation continues the farmers will count losses, he said.
Abu Hossain, deputy director of Thakurgaon DAE, said: " Due to this situation, we have asked the authorities of BADC and BMDA to keep their irrigation pumps operative. Besides, necessary advice was given to the farmers to Aman growers."
A mild heat wave is sweeping over Rajshahi, Rangpur and Sylhet divisions, Tangail, Jessore and Chuadanga districts and it may continue, said a Met office bulletin on Sunday.
However, light to moderate rain or thundershowers accompanied by temporary gusty wind is likely to occur at a few places over Khulna, Barisal, Chittagong, Rangpur and Sylhet divisions and at one or two places over Dhaka, Rajshahi and Mymensingh divisions with moderately heavy falls at isolated places over the country, it said.
Dhaka Tribune