People will fall in love with my 'Laal Sari': Apu Biswas
Published: 9/18/2022 11:50:06 AM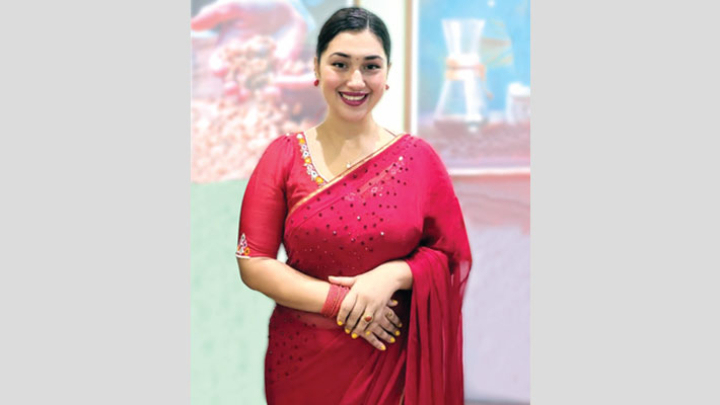 Dhallywood' s vivacious beauty Apu Biswas is all set to produce and act in "Laal Sari". The "Koti Takar Kabin" actress will be seen romancing Symon Sadik in the government-granted film. Directed by Bandhan Biswas, the film centres around the life of people who are associated with handlooms.
The production of "Laal Sari" will commence in November and the makers have their hands full, as they scout various locations around Manikganj, Tangail, and Narayanganj to shoot the movie.
"I am allocating all my energy and time to this film. 'Laal Sari' is like my baby, and I want to create the best for the audience," said the actress.
When asked about the name "Laal Sari", Apu stated that she wanted to show the hardships and struggles of handloom weavers.
"The film 'Laal Sari' represents our rich heritage and culture. It symbolises the beauty of Bengali women, and how each and every thread is crafted by the weavers depict a beautiful tale of love and emotion," mentioned the actress.
Apu Biswas also shared the story of how 'laal' was added to the headline.
"Red is a symbol of love and trust. Love is an integral part of life and it's something that stays with you forever. Hence, we came up with the name 'Laal Sari' for the title," added the actress.
In "Laal Sari", Apu Biswas will be donning the role of an influential rich weaver's daughter. She was born and brought up in village and had a keen interest in her father's business.
Apart from Apu and Symon, the film also stars Shahiduzzaman Selim, Doyel, and Shoma – who will play pivotal roles in the film.
Apu Biswas is quite ecstatic about her maiden production, and how audiences will fall in love with it.
"This film will be a wonderful project, and we will give our best to ensure that it is done perfectly. I believe that the audience will fall in love with 'Laal Sari' as I completely trust my director," said the actress.
Recently, the actress went to Kolkata for the promotion of her Tollywood debut film "Ajker Shortcut". Directed by Subir Mondol, the film was released yesterday across 24 theatres. The premiere show of the movie was held at Nandan theatre.
"We got good responses in Kolkata on the first day of its release. Hopefully, the film will perform well in the coming days," added the actress.
Source - The Daily Star