Pope apologises for 'evil' of Canada's residential schools
Shining BD Desk || Shining BD
Published: 7/26/2022 6:19:02 AM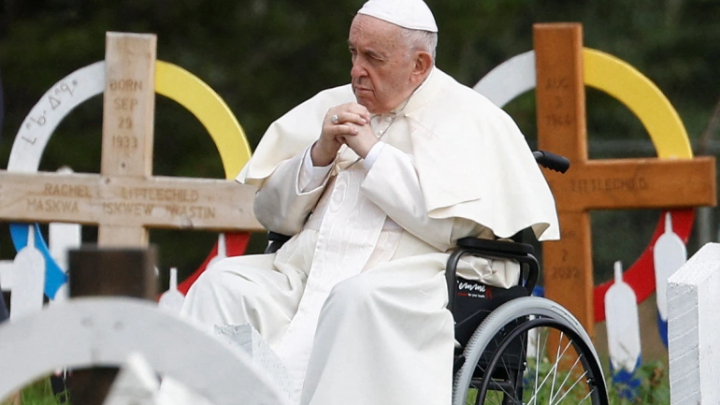 Pope Francis has formally apologised to the victims of the residential schools system, mainly children who were forced to assimilate into it by the Catholic Church.
The personal apology was delivered from the location of the former Ermineskin Indian Residential School, in Maskwacis, in the province of Alberta as the Pope visits Canada.
In his apology, delivered in Spanish, he said, "I humbly beg forgiveness for the evil committed by so many Christians against the Indigenous peoples."
Among those in attendance were Canadian Prime Minister Justin Trudeau and leaders of the indigenous community in Canada and several survivors of the system.
In a statement issued on Monday evening, the prime minister's office (PMO) noted, "Today is about the children who were taken from their families and robbed of their childhoods. The intergenerational impacts of residential schools continue to reverberate within Indigenous communities today, as survivors, their families, and their communities continue to deal with the resulting trauma."
Approximately 150,000 Indigenous children were forced to attend residential schools where they are often subjected to physical abuse, and nearly 60% of those were run by the Catholic Church.
"Here from this place, associated with painful memories, I would like to begin what I consider a pilgrimage. A penitential pilgrimage," Pope Francis said.
The demand for such an apology has pended for a long time. In 2015, one of the action items listed in the final report of the Truth and Reconciliation Committee formed for this purpose called for "the Pope to issue an apology to survivors, their families, and communities for the Roman Catholic Church's role in the spiritual, cultural, emotional, physical, and sexual abuse of First Nations, Inuit, and Métis children in Catholic-run residential schools, according to the PMO.
However, there was continued criticism of the "persona" apology from the Pope. As the Assembly of First Nations' chief RoseAnne Archibald told the outlet CBC News, it fell short, since "it was not on behalf of the Catholic Church, which is what we were hoping for".
Hindustan Times