President Volodymyr Zelensky says US Abrams battle tanks have arrived in Ukraine
Published: 9/26/2023 5:31:09 AM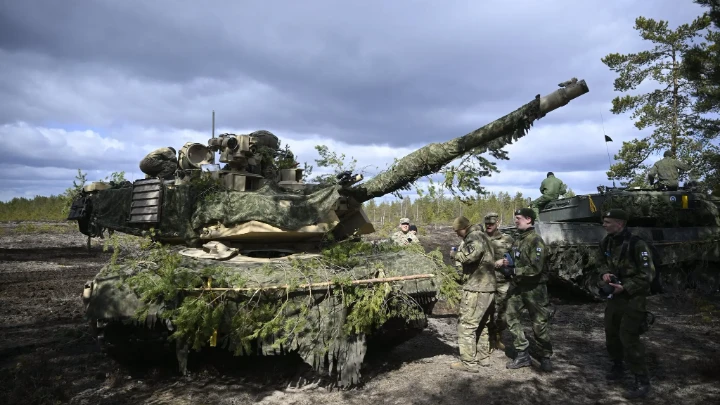 President Volodymyr Zelensky announced on Monday that Ukraine has received Abrams battle tanks from the United States, bolstering Kyiv's forces as they attempt to break through Russian defensive lines.
The announcement followed Ukraine's claim that it had killed the commander of Russia's Black Sea fleet in last week's missile attack on Moscow's naval headquarters in Crimea, which would have been a major embarrassment for Russia.
"Abrams have already arrived in Ukraine and are preparing to reinforce our brigades," Zelensky wrote on social media.
Ukraine has repeatedly asked for more Western weapons, including longer-range missiles, to help break through Russian positions and launch strikes deep within Russian-controlled territory.
Zelensky did not elaborate on how many tanks had arrived, nor on how long it would take for them to be deployed to the front line.
"I am grateful to our allies for fulfilling the agreements. We are looking for new contracts and expanding the geography of supply," he said.
Washington had promised to provide 31 Abrams tanks to Kyiv at the start of the year, part of more than $43 billion in security assistance pledged by the United States since Moscow invaded in February last year.
Russia has repeatedly denounced the arms shipments to Ukraine, arguing they "prolong" the conflict and risk causing it to spiral out of control.
- 'Beyond repair' -
Moments before Zelensky's announcement, Ukraine claimed it killed the commander of Russia's Black Sea fleet in a missile strike on Moscow's naval headquarters in annexed Crimea on Friday.
The strike dealt a serious blow to Moscow, which has suffered a string of attacks on the strategically important port of Sevastopol over the past months.
"Thirty-four officers, including the commander of the Black Sea fleet, were killed. Additional 105 occupiers were injured, according to a statement from Ukraine's special forces.
The attack sent plumes of black smoke spiralling over the building in the centre of Sevastopol, the largest city on the 2014-annexed Crimean peninsula.
"The headquarters are beyond repair," the statement from the special forces continued.
On the day of the attack, the Russian defence ministry reported that one serviceman was missing without providing any additional information.
Ukrainian and Russian attacks in and around the Black Sea have increased since Moscow withdrew from an accord that allowed safe passage to civilian cargo ships from three Ukrainian ports.
Ukraine said last week it struck a military air base near the Crimean town of Saky, while Kyiv's forces have repeatedly targeted the only bridge that connects the peninsula to the Russian mainland.
- Hotel strike -
Russia launched overnight attacks on Ukraine, with officials reporting at least four deaths in air strikes in the southern Kherson region and the grain-exporting port of Odesa.
Since July, when Moscow pulled out of a UN-brokered deal allowing safe grain shipments via the Black Sea, Russia has ramped up attacks on Ukraine's grain-exporting infrastructure.
"A Russian missile hit a warehouse where grain was stored," said Odesa regional governor Oleg Kiper, confirming later that two bodies had been found under the rubble.
A hotel near the port was also damaged overnight, officials said, sharing photos of a high-rise building engulfed in flames.
A separate attack on the southern Ukrainian city of Beryslav killed two people.
"A 73-year-old man and a 70-year-old woman sustained life-threatening injuries," regional governor Oleksandr Prokudin.
The Russian military stated in a daily briefing that it had launched an attack on Ukrainian facilities used to train "sabotage groups" and "foreign mercenaries" without providing further details.
"Every facility was struck. "The objective of the strike has been accomplished," it said.
According to the Ukrainian military, Russia targeted Odessa with 19 drones, two Onyx supersonic missiles, and 12 Kalibr cruise missiles.
According to the Ukrainian air force, the Kalibrs were launched from a submarine and a ship.
They claimed that all 19 Shahed and 11 Kalibr drones were destroyed.