BNP announces program to march in all unions on 11 Feb
Shining BD Desk || Shining BD
Published: 2/5/2023 4:54:23 AM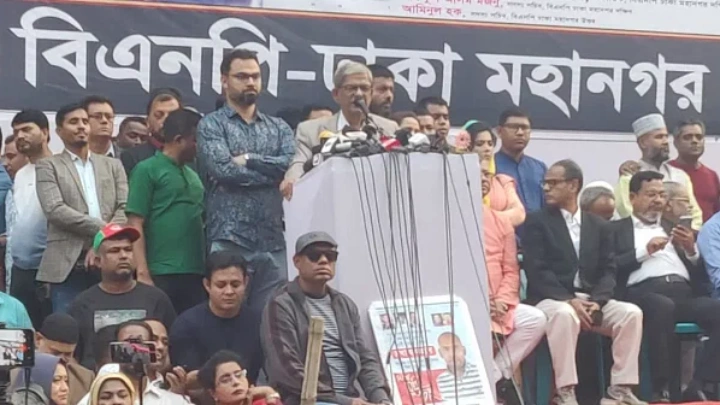 As part of the party's move to involve people at the grassroots in their ongoing anti-government movement, BNP has announced a program to march in all unions across the country on February 11 to press home their 10-point demand, including holding the next general election under a non-party caretaker government.
BNP secretary general Mirza Fakhrul Islam Alamgir made the announcement while addressing a rally in front of the party's Nayapaltan central office on Saturday.
"Our program this time will be at the union level. We'll march at the union level across the country on 11 February (Saturday), as part of the simultaneous movement to protest against the increase in prices of daily necessities, including gas electricity, rice and lentils and for the restoration of democracy, the resignation of the government and implementation of our 10-point demand," he said.
BNP's Dhaka South and North city units arranged Saturday's rally in front of its Nayapaltan central office to reiterate their 10-point demand, topped by the resignation of the government and holding the next election under a non-party caretaker government, that materialised at the end of their earlier divisional rally programme last 10 December.
The party also held rallies in all the other divisions of the country today to protest the hikes in power and gas tariffs and repression on the opposition leaders and activists.
Earlier, leaders and activists of the party's Dhaka North and South city units observed the march program on 28, 31, 30 January and 1 February respectively to push for the 10-point demand.
Stating that their march program in Dhaka drew huge public attention, Fakhrul said they will gradually observe a similar program in upazilas, districts and metropolitan cities after the union level. "In this way, people will oust this regime and establish a government of people," he said.
Fakhrul said they are moving forward with their peaceful movement slowly to defeat the current 'fascist' government together with the people.
Earlier in the day, Ganatantra Mancha, an alliance of seven political parties also committed to the present government's ouster as part of the 'simultaneous' movement, announced a march and mass campaign across the country on 11 February to press home their 14-point demand, including the resignation of the Awami League government.
Saiful Haque, general secretary of Bangladesh-er Biplobi Workers Party, announced the fresh program on behalf of the 7 parties, in front of the Jatiya Press Club on Saturday.
Some other opposition parties and alliances, including Ganatantrik Bam Oikya, the 12-Party Alliance, Samamona Jote, LDP, Gonoforum, and People's Party, also held rallies in different areas of the capital and announced similarly synced programs, signaling their participation in the movement.
It was the fifth program of the simultaneous movement after the mass processions on 30 December, sit-in on 11 January and rallies, processions on 16 January and rallies on 25 January.
Source: UNB