Economic impact of climate change on Bangladesh necessitates financial and technical support: UNRC
Shining BD Desk || Shining BD
Published: 11/9/2022 5:06:31 AM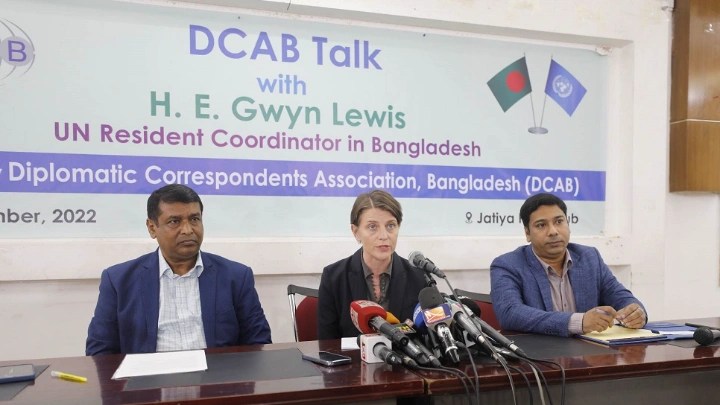 On Tuesday, November 8, UN Resident Coordinator Gwyn Lewis in Bangladesh stated that climate change is having an effect on Bangladesh's economy and urged swift action to provide financial and technological support to the most affected nations, including Bangladesh.
She mentioned some of the areas where the UN is focusing to support Bangladesh and stated that the data shows that Bangladesh experienced economic losses from 2000 to 2019 totaling more than $3.72 billion as a result of extreme weather events linked to climate change.
"This leads to another area of work that the UN is supporting in Bangladesh- supporting economic growth and LDC graduation," she said adding "The growth of the economy in Bangladesh over the past twenty years has been extraordinary, as has been the reduction in poverty."
Speaking at "DCAB Talk", the flagship programme of the Diplomatic Correspondents Association, Bangladesh (DCAB), at Jatiya Press Club , she said before the Coronavirus hit the country, Bangladesh had been advancing at pace to qualify for graduation.
DCAB President Rezaul Karim Lotus and General Secretary AKM Moinuddin also spoke at the event.
Although the pandemic has been disruptive, Lewis said the economy remained on a positive track. However, the current food and fuel crisis generated by the war is also creating pressures and uncertainty, including for the markets for Bangladeshi goods overseas.
In this global climate, although there are benefits to graduation there are also risks, she observed.
"Graduation will enhance the confidence of the country in dealing with the international financial bodies, improve Bangladesh's credit rating and attract higher foreign direct investment flow; however graduation will also affect certain preferential treatments in trade, subsidy to agriculture and access to some LDC-specific funds," said the UNRC.
The risks need to be mitigated and this is where she hoped that the UN's technical support can be useful.
"Further diversification is needed, greater efforts to attract Foreign direct investment and efforts made to regulate in order to meet the requirements for trade agreements when Bangladesh reaches middle income status."
In this context, she said the UN is working to support the government in the development of a Smooth Transition Strategy to do what is possible to make the transition as seamless as possible
Training of young people in IT and new technologies to make them better equipped for the future is one area where effort could be expanded. Another is the creation of new industries and continuing to make Digital Bangladesh a reality.
"I would also like to emphasise however, as important as LDC graduation is that Middle Income status is only a stepping stone. Ultimately the objective is achieving the sustainable development goals and to leave no one behind." Achieving the SDGs goes beyond economic growth and focuses on improving health and education and social protection and good governance, she added.
Gwyn Lewis said Bangladesh's social indicators, such as gender equity, women empowerment, mortality rate, life expectancy, immunisation and access to water and sanitation have improved dramatically over the past 50 years.
Investments in social services however need to continue to grow with the growing population, and with the growing expectations of people who are living in a middle income country, she said.
Turning to ongoing COP 27, she said it comes at a time when South Asia is impacted in unprecedented ways by climate change whether it is the floods in Pakistan or in Sylhet and, Shunamganj Bangladesh or repeated cyclones in India and Bangladesh in recent years.
Unfortunately climate talks have been bogged down in politics and economic pressures, so we need to see more citizen action and listen to the voices of all people living in Bangladesh, particularly young people and women who are often excluded but also know what can help us save the planet.
She said one of the recommendations following the recent visit of the Special Rapporteur on Climate Change and Human Rights to Bangladesh was to focus on inclusion and making sure the voices of the most marginalised were included in decision making.
"As the UN we plan to further work on supporting the government to implement the national adaptation plan and the other policy frameworks such as the Delta plan and the Mujib climate prosperity action plan. The UN with our NGO and Red Crescent partners are also supporting Disaster Risk Management and humanitarian efforts led by the Ministry."
The UNRC further said there are also ongoing programs underway to support migrants and displaced people who are leaving their homes due to the impact of climate change. "By one estimate, up to 50% of those now living in Bangladesh's urban slums may be there because they were forced to flee their rural homes as a result of riverbank flooding."
Meanwhile, in reply to questions, the Resident Coordinator Gwyn Lewis expressed concerns over the political violence that has injured and killed people over the last few months in Bangladesh. In this context, Lewis said she is talking to the political parties about how things can be done in a safe way. "I am talking with the ministry of home affairs and also talking with various security forces to try and protect lives."
Protests and rallies are parts of democracy they should be respected, she said adding that "We hope we can call for that calm and find avenues of dialogue among various parties. On another question, Gwyn Lewis said that it's not for her or UN to take decision or engage in the process of Bangladesh election.
"Unless we get a specific request from Security Council or General Assembly or the country, there is no mandate for the UN here to engage in election," she added.