Tea garden workers block Dhaka-Sylhet highway demanding Tk 300 daily wages
Shining BD Desk || Shining BD
Published: 8/21/2022 8:30:43 AM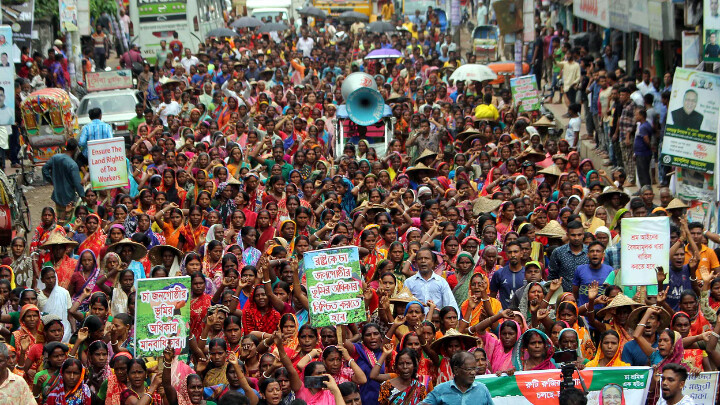 Workers of five tea gardens have blocked Dhaka-Sylhet highway at Madhabpur in Habiganj demanding an increase in their wages.
The workers of Teliapara, Surma, Noapara and two other tea gardens gathered at Jagdishpur Muktijoddha Chattar and blocked the highway around 11:30am today (August 21, 2022).
Hundreds of vehicles remained stuck on the both sides of the highway, reports our Moulvibazar correspondent.
Dhana Bauri, president of Monu Dhalai Valley, said, "Although workers from only five gardens are blocking the highway, workers of 23 tea gardens have also expressed solidarity with the continuing demo and work there will remain suspended. We will continue our movement to press for our demands. We have rejected the decision of Bangladesh Tea Workers Union's general secretary to withdraw the movement."
Aniruddha Baraik, general secretary of Laskarpur Valley, said that workers from 23 tea gardens in the valley refused to call off their strike, demanding Tk 300 wage instead of Tk 145.
Bijoy Hazra, organising secretary of Bangladesh Tea Workers Union, said the strike demanding Tk 300 wage will continue across the country.
Bangladesh Tea Workers Union General Secretary (acting) Nripen Pal said, "On August 16, Director General of the Department of Labour Khaled Mamun Chowdhury held a meeting with the labour union leaders around 11 am in Sreemangal to solve the problem."
He added that they suspended the demonstration considering the month of mourning and also in light of the discussion to be held with the government delegation over their issues and demands.
The Daily Star